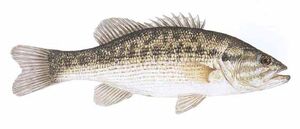 Spotted Bass is a species of freshwater fish.
A conveniant way distinguish between a largemouth bass and a spotted bass is by the size of the mouth.A spotted bass will resemble a largemouth bass in coloration but will have a smaller mouth. Spotted Bass can reach an overall length of almost 64 cm (25in),reaching weights of up to 4.6 kilograms (10lb). It can reach an age of at least seven years. It is notted for the rows of dark spots below the lateral line, wich gives it a common name. Prefering cool and warm mountain streams and reservoirs with rocky bottoms, the spotted bass feeds on insects,crustaceans,frogs,annelid worms, and smaller fish.
Section heading
Edit
Write the second section of your page here.
Community content is available under
CC-BY-SA
unless otherwise noted.